This post contains affiliate links. If you use these links to buy something I may earn a commission. Thanks! As an Amazon Associate I may earn from qualifying purchases.
PRIVATE OFFER!
LIMITED TIME!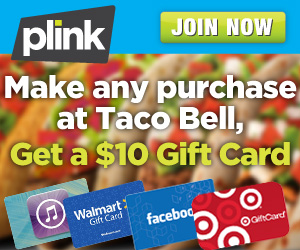 Really!
Go to Taco Bell and buy an 89¢ taco and you can get a FREE $10 Gift Card from Plink.
Here's the deal:
Sign up for Plink today for FREE, make any (even an 89¢ Taco or a $1 Spicy Buffalo Chicken Griller from the Happier Hour menu) purchase at Taco Bell by Sunday, 7/28/13 11:59 EST, and they'll give you 1,000 FREE Plink Points – enough to redeem for a FREE $10 Gift Card of your choice at places like Amazon.com, iTunes, Target, Walmart, Kohls, Starbucks and more!
Plink Member must link a credit or debit card and make a purchase at Taco Bell by Sunday, 7/28/13 11:59 EST
Purchase is necessary (after the member links a credit/debit card to their Plink account) to qualify for the FREE bonus 1,000 Plink Points by Sunday, 7/28/13 11:59 EST.  Bonus 1,000 Plink Points will be awarded within 7 business days of the transaction posting date.  McDonald's purchases that occur on 7/29 or later will not qualify for the bonus. 
New Plink members only, one sign-up bonus per person.
3 SIMPLE STEPS
1 ► Link your credit or debit card with Plink
2 ► Make a purchase at Taco Bell with your linked card – ANY amount (How about a side of sour cream?  How much is that?)
3 ► Receive a FREE $10 gift card of your choice within 7 business days
You can continue to earn rewards at more than 70,000 locations nationwide for more FREE Gift Cards!
What are you waiting for?
Sign up for Plink and get your FREE $10 Gift Card!

We may earn a commission from affiliate links in this post.