This post contains affiliate links. If you use these links to buy something I may earn a commission. Thanks! As an Amazon Associate I may earn from qualifying purchases.
Sign up with Audible and get a FREE Bestselling Audiobook!
Choose from these Bestselling titles –
Fifty Shades of Grey
Divergent
The Collector
A Game of Thrones: A Song of Ice and Fire, Book 1
The Goldfinch
Light in August
The Five Elements of Effective Thinking
Star Wars
Flash Boys: A Wall Street Revolt
The Fault in Our Stars
or choose from 150,000+ other titles!
PLUS
1 ► Sign up for Audible for FREE
2 ► Get a FREE $5 Audible Credit to use toward another book!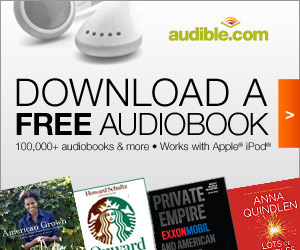 We may earn a commission from affiliate links in this post.