This post contains affiliate links. If you use these links to buy something I may earn a commission. Thanks! As an Amazon Associate I may earn from qualifying purchases.
LIMITED TIME OFFER
Get a Baby Einstein Bundle for FREE!
LOOK at everything you get for FREE!
Items include 3 sturdy board books: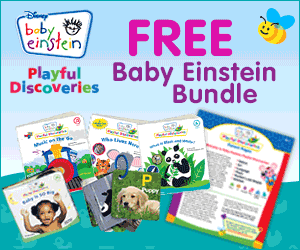 "Who Lives Here?"
"Music on the Go"
"What is Black and White?"
PLUS
Squishy plush book, "Baby is SO Big"
Discovery cards with ring
Informative parent guide
It's never too early to start reading to your baby! Reading with your child allows you to create bonding moments and lasting memories while encouraging a life-long love of books. Baby Einstein's Playful Discoveries will introduce your baby to language, music, animals, nature and art. The Baby Einstein Discovery Kit contains bright, soft and interactive fun for your baby. Featuring 3 sturdy and durable board books filled with bright illustrations and colorful images, a squishy plush book for sensory exploration, a set of discovery cards and an informative parent guide.
LIMITED TIME OFFER – No obligation to purchase anything additional.
Get a Baby Einstein Discovery Kit for FREE.

We may earn a commission from affiliate links in this post.