This post contains affiliate links. If you use these links to buy something I may earn a commission. Thanks! As an Amazon Associate I may earn from qualifying purchases.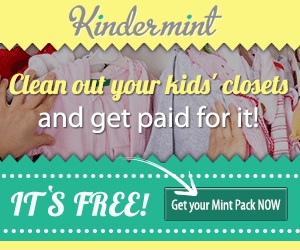 Do you have a bunch of old children's clothing?  Did you know that kids clothing translates into FREE Cash with Kindermint?
Designer Kids Clothing- Kindermint buys it Clean out your kid's closets and you get paid for it!
Order a FREE MINT PACK from Kindermint
Stuff the MINT PACK full of kids clothes you wish to sell
Drop the Pre-Paid MINT PACK in the mail (UPS or USPS)
Cash in! Your choice of check or deposit to your PayPal account.
Sounds pretty easy for clothing that is just sitting around!
What are you waiting for?  Order your FREE Mint Pack and get some FREE Cash!